We offer a versatile range of GRP pultruded profile structural products which meet or exceed standard BS EN13706 E23 grade, offering a wealth of construction opportunities.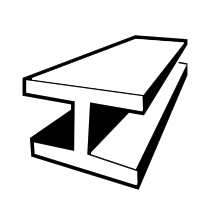 What are GRP Pultruded Profiles?
GRP profiles are light in weight, maintenance free and suitable for a broad range of applications, making an ideal and cost-efficient replacement for traditionally used materials like concrete, steel, aluminium and wood.
A smooth finished surface provides long life with the material offering a cost-efficient and sustainable solution to many design requirements.
Pultrusion is a continuous process used in the production of composite profiles with constant cross sections and material properties.
Now in use for more than 50 years, the technology ensures consistently high quality is reproduced in every production run for every product.  Densely packed continuous fibreglass rovings and matting are pulled by process machinery through a bath of resin and then on through a high temperature and high-pressure mould which forms and cures the finished section shape. Finally, the sections are automatically cut to the desired length.
Stock sections are offered in most commonly used structural shapes and through carefully selected, quality assured manufacturing sources, access to a wider range of shapes and sizes is available.  We also welcome enquiries for new moulds and profiles to be made.
Complete Fabrication Service
We are able to offer a complete fabrication, delivery and installation service for most types of access & support structures, underpinned by all required engineering drawings & calculations.
Typical stocked profiles include:
Angle
Box
C-section
Flat
I-beam
Wide flange beam
Round tube
Plank
Hand rail
Ladder Rung
Suitable for all industrial and commercial environments, pultruded profiles are typically used to construct safe access structures such as stairways, walkways and platforms.  All systems are designed to comply with relevant standards such as Eurocomp Design Code & BS 4592.
Typical installation scenarios include:
Access platform walkways
Pedestrian bridges, steps & walkways
Worker access to machinery
Manufacturing plants
Marine vessel applications
Water treatment works
Offshore wind & oil facilities
Railway trackside applications
WHY EVERGRIP GRP Pultruded Profiles?
Long lasting and durable
Load testing of profiles allows the design of safe structures
Little or no maintenance required
High impact resistance
UV resistant – maintains structural integrity after long service
Fire retardant options available with a choice of resin type (such as isophthalic polyester resin) to meet most requirements
Chemical resistant resists a wide variety of chemicals, suits most environments
Low electrical and thermal conductivity
Relative light weight makes for easy transport and reduced load on existing structures
Easy handling, fabrication and assembly
*Subject to order type and size
Minimum order quantities and lead times may apply, please contact us for further information. The application of a polyurethane coating to completed assemblies in exterior environments can reduce long-term colour fade.
VIEW DOWNLOADS