Anti Slip Flooring is an ideal solution for hazardous areas such as walkways, steps and platforms. Extra hard grit granules are long-lasting plus the flooring can be quickly installed and is maintenance free.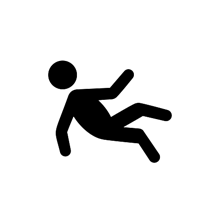 Highly durable Anti Slip GRP sheets and profiles. Capable of being retrofitted to all types of walkway surface.
Our anti slip flooring products are durable and long lasting, providing high levels of slip resistance. Impervious to most environmental conditions, suitable for both internal and external use in and around the workplace and public spaces.
Made from premium quality composite materials, anti slip sheets provide high levels of slip resistance and will reduce or completely remove hazardous slippery conditions; improve the safety of personnel, the public and reduce the likelihood of unnecessary accidents, injuries and potential insurance claims.
It is developed to comply with relevant safety standards and regulations, with some types designed specifically to help meet the requirements of Equality Act legislation.
What are non slip flooring sheets made of?
All types of our GRP flooring sheets are made from a composite of Glass Reinforced Polymer (GRP) substrates & polyester resins. Incorporated into the surface structure are granules of refined aluminium oxide which provide their unique characteristics of extended durability & high levels of slip resistance.
Typical installation scenarios for anti slip flooring include:
Factory production line walkways
Pedestrian bridge or underpass steps & walkways
Worker access to machinery
Marina gangways
Covering steel chequer plate or grid steps
Covering wooden or concrete steps
Boardwalks
Tiled surfaces
Ladder rungs
WHY EVERGRIP Anti Slip Flooring?
Refined, extra-hard aluminium oxide granules give superior performance and wear characteristic compared to common quartz grit finishes
Choice of grit grade:
Barefoot: grade 40, Extra-fine
Pedestrian: grade 24, Fine
Industrial: grade 16, Medium/coarse
Offshore: grade 12, Extra coarse
Rapid & easy installation, little to no downtime
Full range of RAL and BS colours available to order
Outlasts anti slip tapes, floor paints and coatings
Little or no maintenance requirement, easy to clean
Resistant to a wide range of chemicals, full details available
Equality Act compliant products available
Conforms to UK Building Regulations
Full range of fasteners and adhesives available
Free cutting service*
*Subject to order type and size
Minimum order quantities and lead times may apply, please contact us for further information.
VIEW DOWNLOADS