Our workplace safety gates provide fall protection for ladderway openings and platforms
The highly durable self-closing safety gates we supply and fit have a wide range of industrial applications. They not only provide robust and reliable fall protection for ladderway openings and platforms, but they can also safeguard your people at building entry and exit points and on ground-level segregated pedestrian routes.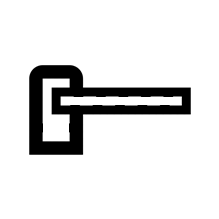 Safety swing gate range:
Available as either Double Bar or Single Bar types
Choice of two standard lengths (940mm & 1200mm)
Can be trimmed to length on-site to suit exact requirements
Our workplace safety gates are shipped, boxed, and pre-assembled complete with fasteners and installation instructions
Adaptors available for mounting on round tube guardrails
Self-closing safety swing gates with high quality hinges
Double Bar fall protection gates are manufactured in accordance with EN 14122-3 & EN 14122-4
Typical applications for self shutting gates:
Safety swing gates for cage ladders
Ladder access gates
Fire escape gates
Platform safety gates
Access to silos and machinery stations
Integration into existing guardrail systems
Segregated pedestrian routing
Mezzanine fall protection gates
WHY EVERGRIP Industrial Safety Gates?
Easily configurable to left or right one-way opening
Self-closing mechanism with an adjustable closing force
Maintenance-free, self-lubricating hinge element
Maximum opening angle of 180 degrees allows for easier access
High visibility safety yellow colour (RAL 1023)
Non-corroding – including A2 304 stainless steel components
Very strong construction
Long-life design with 5 years, 100,000 cycle warranty
UV resistant, anti-static, and fire retardant
Simple to install
Double bar gates provide extended protection to knee height
Conforms to EN 14122-3 and EN 14122-4
VIEW DOWNLOADS