About GRP Gratings
Here at Evergrip, we stock & produce a complete range of high quality GRP moulded gratings, anti-slip flooring and grating systems.
Each GRP flooring type is available in a wide choice of sizes, material types & applications. For safety-critical applications, the product has been tested and approved to standards listed below.
The fibreglass gratings range is designed to offer a cost effective, low maintenance alternative to stainless or galvanized steel when used in new build or refurbishment projects.
High strength, durable and lightweight industrial fibreglass grating products; providing maintenance free reliability in all environments.
Glass reinforced polymer (GRP) gratings offer an attractive combination of mechanical & physical properties and are a proven, ideal replacement for steel grating, stainless steel grating  & aluminium composite grating. They are available in a wide variety of structural, chemical & dimensional variants making them suitable for installations in all industrial & commercial environments.
All types exhibit key product features & benefits:
Strong & durable – excellent loading ability
Non corroding – no issues with rust, maintenance free, low life-cycle costs
Impact resistant – will not crack or chip, maintains the appearance
Fire retardant – choice of resin type to meet the required performance for fire resistance.
Chemical resistant – choice of options to suit all environments
Low electrical & thermal conductivity – ideal near electrical installations
Anti-slip surfaces – reduction in slip related accidents
Relative light weight – reduced transport costs & load on existing structures
Easy handling, fabrication & assembly – no welding
As a GRP grating manufacturer, our fibreglass gratings are produced by two distinct manufacturing processes to offer either Moulded or Pultruded variants. Both types are composite products and combine fibreglass strands with thermosetting resins to form extremely strong panel structures. These two complimentary materials give glass reinforced plastic gratings excellent compressive and tensile strength.
Typical installation scenarios include:
Access platform walkways
Pedestrian bridges, steps & GRP walkway panels
Worker access to machinery
Marina gangways
Replacements for steel chequer plate or grid steps
Replacements for wooden steps
Marine vessel applications
Water treatment works
Offshore wind & oil facilities
MOULDED GRP gratings combine fibreglass rovings with a choice of thermosetting resins to form an extremely strong one piece panel.
Fibreglass gratings are proven to withstand the effects of chemical corrosion and are impact resistant and flame retardant.  A comprehensive range of mesh size (including mini mesh grp grating or micro mesh grp grating), mesh type & surface finishes is available.
Moulded fibreglass grating is available in the following types: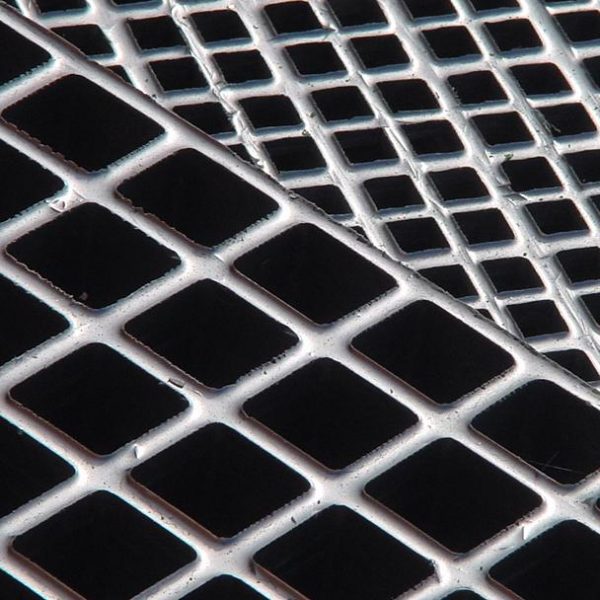 Open gird flooring is a long lasting, durable solution to ensuring your floors are slip resistant. This concave surface grating has excellent compressive and tensile strength, making it perfect for industrial and commercial environments.
The gritted surface non slip grating is suitable for both interior and exterior scenarios.  It's high impact resistance and rapid installation makes it a cost effective replacement for metal gratings panels.
Covered (solid) top – gritted surface
Our solid top gritted GRP grating panels have an additional 3mm thick GRP covering board laminated on top of the surface. This board forms an even stronger surface and makes this grating the ideal GRP walkway solution.
The benefit of our micromesh grating flooring is that the reduced openings prevent small objects from passing through the mesh. In addition to this, the closer spacing of the bearing bars on the mesh gratings also allows for smooth movement of trolleys and wheelchairs.
Our Conductive top grating is specially formulated with a carbon black surface. This surface, when electrically grounded, will eliminate any build-up of hazardous static electrical charge from the GRP flooring.
Chemical – resin type options:
Polyester – orthophthalic, isophthalic polyester & isophthalic food grade
Vinylester – standard or high flame resistant
Phenolic – high flame resistance & low smoke
Dimensional – Options
Heights from 15mm to 60mm
Panel sizes typically from 1007 mm width up to 4047 mm length
PULTRUDED gratings are assembled from GRP bearer bars (either I or T section) and transversely linked with cross-rod sections to specified spacings, giving an open surface range from 33%-60%.
The bearer bars are formed from densely packed continuous fibreglass rovings, combined with a multi-directional glass mat reinforcement and wrapped in a surface veil of resin.  During the pultrusion process, the fibres are drawn through a bath of resin and into a die under high temperature & pressure. This forms the cured, finished section which is cut to the required lengths.
The core of continuous glass rovings provides the bar with high longitudinal strength and stiffness, while the glass mat reinforcement gives transverse strength and resists chips, cracks and fractures. The surface veil finish offers protection against corrosion & UV light degradation.
Our grating systems are proven to withstand the effects of chemical corrosion and are impact resistant and flame retardant.
Pultruded Grating is available in the following types:
The pultruded open grating is a lightweight grating that is ideal for both interior and exterior installations. We offer a choice of spacing between the bearer bars and each GRP flooring panel can be manufactured, or cut, to size.
Open structure gritted surface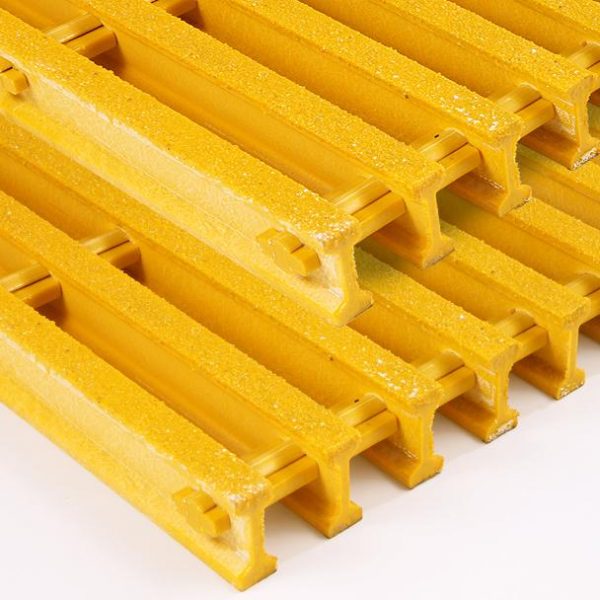 The gritted pultruded grating has a high load-bearing capacity and is ideally suited to installation with greater unsupported spans and even light vehicular traffic.
Covered (solid top) and gritted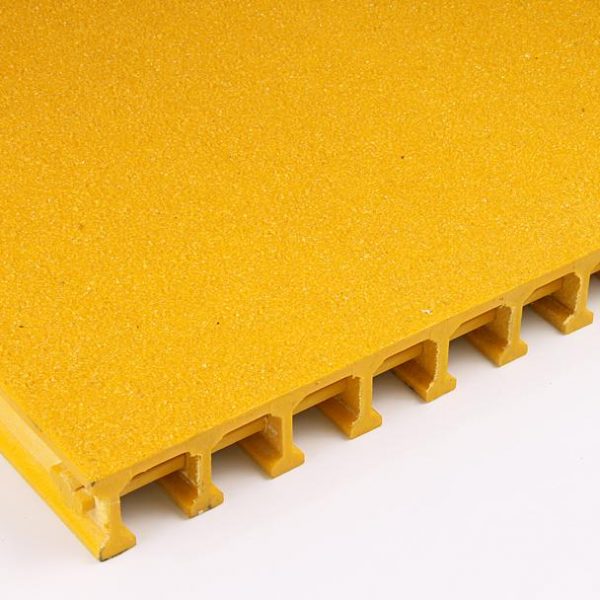 Our covered pultruded grating has an additional 3mm thick GRP covering board laminated on top of the surface to form a strong load-bearing GRP walkway product.
Chemical – Resin type options:
Polyester – orthophthalic or isophthalic
Vinylester – standard or high flame resistant
Dimensional – Options
A choice of panel dimensions is available to order with heights from 25mm to 50mm and maximum finished size of 6100mm x 1220 mm.